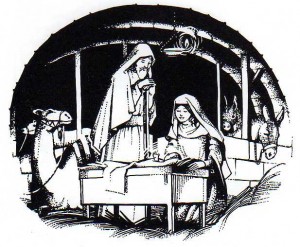 The rushing and hubbub of Christmas is behind us and we are left with a major clean-up job. For most of the world, Christmas is over until next year. But on the Christian calendar, Christmas isn't over for another twelve days culminating on January 6 representing the time the wise men brought their gifts to Jesus.
I considered writing a twelve-day devotional book for reading over these twelve days, but I still haven't written it. I also thought I would write a devotional a day for my blog, but here it is, three days into the twelve… I missed my chance again, but thought I might still try for some Christmas musings anyway.
My church had a Bible study this year called Christmas Is Not Your Birthday. It was very helpful to put our focus on the Christ child instead of on Christmas gifts. Imagine someone giving a birthday party in your honor but everyone brought gifts for each other instead of for you. We were reminded of the scripture that says 40 "The King will reply, 'I tell you the truth, whatever you did for one of the least of these brothers of mine, you did for me.' " (Matt 25:40 NIV) Perhaps we need to be honoring Jesus and one another by giving gifts to those who have nothing.
I heard portions of a speech by a man who had thoroughly researched the roots of our cultural traditions on how we celebrate Christmas, and it was very unsettling. Not only do we wear ourselves out to get all these decorations in place, the roots are deeply embedded in paganism. I hope to find a way to put a manger in my living room next year instead of a Christmas tree. To make it more authentic I would have to add straw and some animal poop, but I don't think I could bring myself to take it that far.
For most, it would be very difficult to trash the family traditions, but by bringing in new and better traditions, perhaps the old traditions could become less important – putting up smaller trees, giving smaller gifts to family and friends and increasing gifts to homeless shelters, prison ministries, and orphanages, or to one or more impoverished family in your own community. My husband has been volunteering in a community food pantry. This year he began a new tradition in our family by taking our granddaughters to help carry boxes of food to the cars of the needy people who came for them.
We have a full year to think about what we will do next Christmas. Don't let the busy-ness of life crowd out the opportunity to think it through and make a difference.