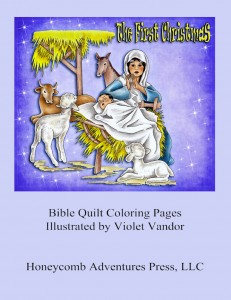 Advent is a special time of year as we each look forward to Christmas in our own ways. Some decorate with gusto while other shop 'til they drop. Some bake cookies, fruitcakes, and candy to give to friends. Some will use Advent calendars to count the days. Many attempt to do several or all of the above. I'm afraid that would wear me out!
I believe it is beneficial to analyse our activities to see which honor the Christ Child and which are only founded in traditions or worse in other people's expectations on us. I would encourage my readers to seek traditions that will reinforce the reason why we celebrate Christmas in the first place.
Wouldn't it help to read short passages from the Bible that give a portion of the Christmas story and read it a little at a time as we anticipate Christmas day? The Bible Quilts blog has a collection of Bible based Christmas pictures designed for making a Christmas quilt or a Christmas tree skirt. This activity could be stretched out over the days before Christmas as families read the Bible passages, trace the pictures on the fabric and the children color them. Sewing can be kept to a minimum by tracing and coloring directly onto a white cotton tree skirt.
Perhaps you can find other ways to keep Christ at the center of our Advent season activities. Please share what you do with your family to focus on the Christ Child.