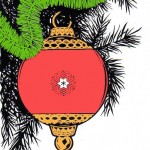 The question I dread being asked the most every year has always been, "What did you get for Christmas?" As a child I was always embarrassed because my friends would rattle off a long list of things they got and I would try my best to make my single gift sound exciting too. Even as an adult I've never been privileged to receive extravagant Christmas gifts. Writing this post is embarrassing. Thankfully, I'm less likely to be asked what I got for Christmas.
This year my husband Dave and I agreed to skip buying gifts if it meant using the credit card. We found other ways to say Merry Christmas.
Dave shared a cartoon with me along this vein. I encourage you to read it by clicking on this link.
How and why have we allowed the commercialism of Christmas to dominate the celebration of Christ's birth? How can we bring Jesus to his rightful place and make his birth holy again?
I don't presume to have the answers. I'll venture to offer a few ideas, but I'm really looking for ideas and hope my readers will share some of the ways they celebrate Christ's birth in a meaningful way.
Read the Christmas story aloud from Matthew and Luke in the Bible a little at a time every night starting on December 1st. If you finish reading it before Christmas, start over with another Bible translation. Bible Gateway has many online translations to choose from if you run out of translations.
Act out the different scenes, especially if you have children at home.
Make drawings, Christmas tree ornaments, or other crafts that tell the story of the first Christmas.
Give meaningful gifts to those who have little.
Give a gift of time, not money, and build relationships.
Find a way to participate in an old-fashioned Christmas pageant.
Go Christmas caroling, even if you go by yourself or with only one or two friends.
Help your children make Christmas gifts that are useful (and non-fattening) for relatives and friends.
Spend time as a volunteer in a community food bank or soup kitchen. Include children or grandchildren in this activity.
What are some ways you keep your focus on the true meaning of Christmas? Please share them in the comments below.