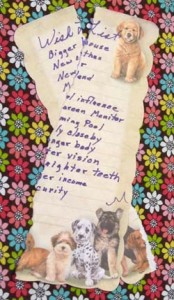 It is so easy for we who have everything to complain because we don't have something we want. I wish my house were bigger. I  wish I had more money to market my books… I wish… I'll spare you the rest of my wish list.
Today I read a blog post by a missionary in Africa that was so awesome and eye-opening that I had to let you, my readers, in on it. Please read Hope for the Hopeless by Lisa Lewis Koster. Then re-consider your personal wish list and your need to complain about what is on it.
If you also read Lisa's Story you will be blessed again.
Read Jeremiah 29:11-14 and trust the One who can supply your needs. (You can select the translation you prefer from this link.)
Father God, forgive us when we become impatient. Help us to rest fully in the assurance that you are supplying our needs, even when our circumstances seem to tell us otherwise. Help us to see life through the BIG picture, the vision you have for us.